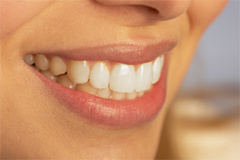 Cosmetic Dentistry
This can be anything done to correct imperfections in the appearance of the mouth. Anyone who is unhappy with their smile can have it fixed. Color, alignment, and spacing are general characteristics that give teeth their overall appearance. Any of these can be repaired to give your mouth a new & stunning look.
We offer a wide variety of cosmetic options such as whitening, smile design, recontouring tooth shape, veneers, bonding, and all ceramic/porcelain crowns.
WHITENING
Make your teeth whiter and more attractive! Our office uses several methods such as passive tray whitening and professional strength whitening strips. For more information, contact our office or schedule an appointment.
VENEERS
Veneers are a dental procedure in which a covering is placed over the outside (visible area) of the tooth. Veneers are usually only done to the visible parts of teeth when talking or smiling. The advantage of veneers versus crowns is that much less tooth material is removed and the procedure is generally more comfortable for the patient. This procedure is recommended for teeth that have large fillings or little tooth structure. For additional questions, contact our office.
1881 S Randall Rd Ste D
Geneva, IL 60134
(630) 208-1779